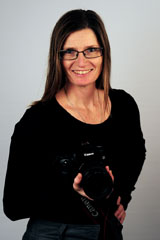 Photo: Elliot Strandmark
About me
My interest in photography began in junior high-school where I started to shoot and develop pictures in the school darkroom, but it was not until 1988, when I got my first job in a photo store, that I started to shoot pictures more seriously. During many years I worked with photo development and sales, I had three children during that period and mixed working with parenthood. I continued shooting pictures, a lot of pictures.
Many, many pictures later I won Photo Challenge 2008, a photo contest arranged by fotosidan.se, a major on-line swedish photo community.
I like shooting portrait, landscape and still life pictures and in summary my pictures can be described by the words "less is more". I am very fond of simple shapes and pure style which can be observed in my still life pictures. When I shoot portraits I want to capture the model as natural as possible, which is why I like to use existing daylight or, when not possible, a continuous daylight set that gives a softer feeling than a flash light set. I shoot portraits either at customers place, in the nature or at my place.
I could continue listing facts about myself but it does not tell who I really am, so I suggest that you take some time and watch my pictures and maybe then you can start imagine who I am...
Equipment
Canon 5D Mark II
Canon 50/1,4
Canon Macro 100/2,8 L USM

Nikon D300
Nikkor 50/1,8
Nikon SB-910
Sigma 18-50/2,8

Elinchrome Minilite (continuous daylight set)
Blog
You are welcome to visit my blog Camilla Alvén if you want to see more of my pictures and read my personal thoughts, you find it at: www.camillaalvensfoto.blogspot.se.